Landscaping, Yard and Garden
Visit our 1200 square foot display of retaining wall and paver materials at the Home Improvement Center in Weed. The many styles and colors available are shown in typical applications.
Our supplier for yard and garden power equipment is MTD Products. They manufacture a variety items including walk and ride mowers, string trimmers, leaf blowers and snow blowers. Click on the following icon to view their product selection.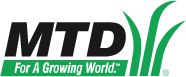 ---
Irrigation supplies: portable sprinklers, hoses, sprinkler and drip system components including pipe, fittings, heads, timers/controllers
Our recommended lawn care brand is Scotts, for grass seed, fertilizer, potting soil and more!
Garden tools: shovels, rakes, cultivators, pruning sheers
Pest control products: rodents and insects

De-icers (winter season)
---