The most frequently used sidings in Siskiyou County are shown below:
Grooved plywood sidings, often referred to as T1-11 are the original dual purpose siding. They function as a shear panel as well as the exterior finish material. Two groove patterns are usually available, a narrow groove on 4″ to 8″ centers and a wider groove on 12″ centers referred to as reverse board and batten.
---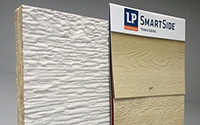 LP Smart Side products come in panels or in planks that are installed in a lap siding pattern. The product is constructed with wood strand chips, bonded into a textured board. The panel product functions as a shear panel and a finish surface.
---
Western red cedar siding is often used for a "natural" look exterior. It is usually finished in an oil tinted or clear stain and provides an "Alpine" look to nearly any structure. It is a siding that must be applied over a shear panel and is usually a lap pattern or a tongue and groove pattern that lies flat against the structural under panel.
---
Shingle panels are factory assembled with cedar shingles attached to a plywood board to form 8 foot long "planks". The planks are installed as lap siding over a structural shear panel. This product is often combined with cedar lap siding in "Alpine" and "Craftsman" style buildings. Oil stains and sealers are generally applied although some homeowners prefer to allow the shingles to weather.
To view a video on installation of shingle panels, click here.
---
Fiber cement siding is rapidly becoming the most popular siding product in the country. Manufacturers have developed panels, lap siding. shingle planks and other uses of the material which is, as the name implies, a mixture of wood fiber and cement. The product is fire resistant, does not support mold or swell with moisture and holds paint well.